(March 29, 1945) -- Seaman 2/c Thomas Edward Lamb died of his wounds in the Pacific.
He is survived by his wife Danetta Lamb of Union Avenue.
Lamb grew up in Montclair where his parents still live.
Seaman Lamb entered the U.S. Naval Reserve in May 1944, and trained at Sampson, N.Y., and Newport, R.I.
He had been assigned to a cargo attack ship in November 1944.
Seaman Lamb returned from his first tour a month later, then sailed out again after temporarily being assigned in California.
Sources:
Belleville Times, March 29, 1945
World War II Honor List of Dead and Missing,
State of New Jersey, War Dept. June 1946
Belleville Sons Honor Roll - Remembering the Men Who Paid for Our Freedom Second Edition
Available in paperback or as a download.
The second edition updates the 106-page original printing, including more information on Belleville actions in the American Revolution, War of 1812, Civil War, World War I, World War II, Korean War, Vietnam War and Cold War casualties.
Latest edition includes some photographs.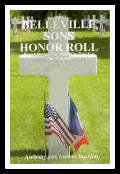 Snail Mail: PO Box 110252, Nutley NJ 07110
Entire contents BellevilleSons.com
Copyright © 2003 - 2007 by Anthony Buccino
All Rights Reserved
Web site sponsored by