Belleville Sons Honor Roll - Remembering the Men Who Paid for Our Freedom Second Edition
Now available in paperback or as a download.
The second edition updates information from the 106-page original printing, including more information on Belleville actions in the American Revolution, War of 1812, Civil War, World War I, World War II, Korean War, Vietnam War and Cold War casualties.
Latest edition includes some photographs.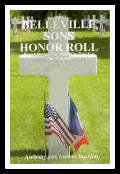 Snail Mail: PO Box 110252, Nutley NJ 07110
Entire contents BellevilleSons.com
Copyright © 2003 - 2007 by Anthony Buccino
All Rights Reserved
Page Updated: July 16, 2009
Web site sponsored by