Sgt. Joseph McDermott
Killed in Action in Europe
Sgt. Joseph L. McDermott, 23, of 10 Washington Street, Belleville, suffered a fatal concussion from a bomb explosion on March 2, 1945.
He participated in the Normandy landing on D-Day, June 6, 1944. Sgt. McDermott, 23,
Born on July 1, 1921, McDermott enlisted in the Army on Dec. 22, 1942, serial number 32599662, taking basic training at Fort Dix, N.J., and further training in Colorado before heading to England.
Sgt. McDermott served with the 49th Engineers Battalion.
McDermott was born in Belleville to Grace and Thomas McDermott. He is survived by brothers Bart and Edward.
He is buried at St. Peterís Church Cemetery on William Street in Belleville.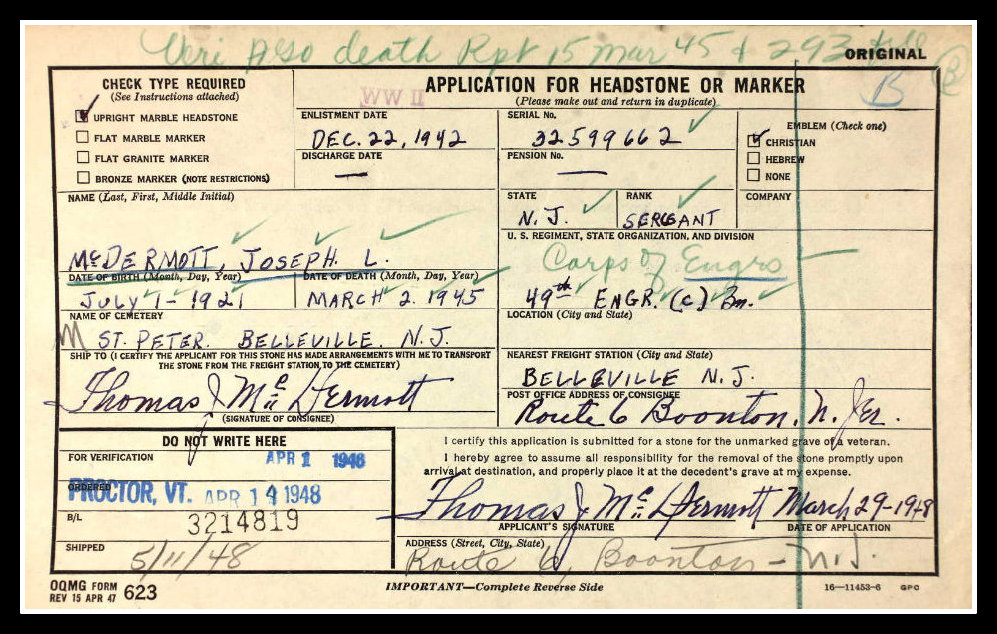 ---
Sources
Belleville Times, Aug. 10, 1944
World War II Honor List of Dead and Missing, State of New Jersey, War Dept. June 1946
U.S., Find A Grave Index, 1600s-Current
U.S., Headstone Applications for Military Veterans 1925-1963