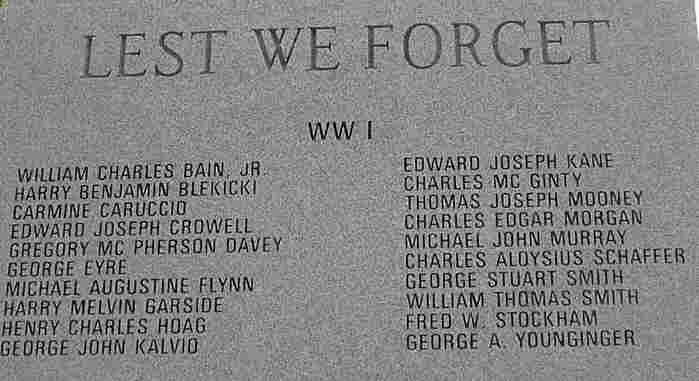 ---
These 21 Belleville Sons are known to have died in the Great War:
Harry Benjamin Blekicki (Smith)
Edward Joseph Kane
Fred W. Stockham
---
Victory statue in front of Town Hall, honors the Belleville sons ''who served in the World War, and in perpetual memory of those of their number who gave their lives in the service and whose names are here inscribed.'' Below, close up of names on above shield. Monument is located in front of Town Hall on Washington Avenue, Belleville, N.J.
Photos copyright © 2003 by Anthony Buccino, all rights reserved.
---
According to the American Battle Monuments Commission, of the 136,516 Americans that lost their lives during World War I, there were 4,452 Missing In Action.
The population of Belleville in 1920 was 15,696.
---
Sources Include:
American Battle Monuments Commission
Belleville Historical Society, Edward O'Neil
Belleville Town Hall Victory Monument
Ed Morrows, grandnephew of Edward Crowell
Newark Star-Eagle
St. Mihiel Trip-Wire - From WorldWar1.com
St. Peter's Church, Belleville, New Jersey - 150 Years
State of New Jersey Dept. of State Div. of Archives & Records Management: World War I Casualties: Descriptive Cards and Photographs.
The Belleville Times, Nov. 11, 1996, Richard Dickon, Editor
The Nutley Sun
The World Almanac and Book of Facts for 1921. Publisher: New York World-Telegram and Sun.