Lt. Leonard R. Willette, a Tuskegee fighter pilot who was killed in action while escorting Allied bombers over Germany on Sept. 22, 1944, was honored by his hometown at a street-naming ceremony on Feb. 24, 2018, at Stephens and Academy streets, Belleville, N.J.
Willette was graduated from Belleville High School, Class of 1939.
---
War's Worst Week For Belleville Lists 13 Local Casualties
Tuskegee Pilot Willette Lost Over Germany
(Jan. 18, 1945) -- Flight Officer Leonard R. Willette, 22, was declared killed in action this week.
Willette, service number O1692873, had been listed as missing in action since Sept. 22, 1944.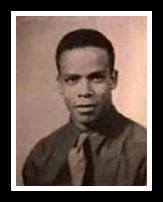 He is the son of Newark Police Lt. and Mrs. Lawrence Willette, of 137 Stephens Street, Belleville, N.J.
The young man enlisted in the Army Air Corps while a student at New York University. He entered the service from New Jersey.
He refused an appointment by the late Senator Barbour to West Point in order to get into active combat more quickly.
Willette received his wings in February 1944, at Tuskegee Army Air Field, Ala.
He was a P-51 Mustang pilot based in Italy with the famed 99th Fighter Squadron, 322nd Fighter Group, under command of Col. Benjamin O. Davis.
2nd Lt. Willette, was awarded the Air Medal with oak leaf cluster, and the Purple Heart, the European-African-Middle Eastern Campaign Medal with 1 Bronze Service Star, WWII Victory Medal, WWII Lapel Button.
He is also survived by a brother Pvt. Lawrence Willette Jr. at Tinker Field, Okla.
He is memorialized at: Plot J, Row 18, Grave 17, at the Lorraine American Cemetery, St. Avold, France.
---
According to W. F. Holton of the Tuskegee Airmen Inc., Leonard Willette graduated from Class 44-B-SE, on 2/8/44.
Holton says records show that Flight Officer Willette was assigned to the 99th Fighter Squadron, 332nd Fighter Group, and was reported missing in action 9/22/44, while participating in a combat mission to Munich, Germany.
His last known position was 10 t0 15 miles North of Lake Chiem, Germany. He was flying is P-51, Mustang which he named "Wrong Woman."
One of the pilots of the 99th received a radio message from Willette, stating that he was having engine trouble and thought he would have to bail out.
He was at 30,000 feet and losing altitude and his oil pressure was decreasing rapidly.
When the pilot, Lt. Saunders, last saw Willette, he was disappearing through a hole in the clouds at about 20,000 feet.
A second pilot who was leading the mission, Herman Lawson, was flying at 30,000 feet when he received Willette's radio call that he would have to bail out. The time was 12:33 p.m. on Sept. 22, 1944.
According to a report, Lt. Willette's remains were later recovered, and he is buried rather than memorialized at Lorraine American Cemetery, St. Avold, France.
---
On Jul. 19, 1941, the Army Air Force began a program in Alabama to train black Americans as military pilots.
Primary flight training was conducted by the Division of Aeronautics of Tuskegee Institute, the famed school of learning founded by Booker Taliafero Washington in 1881.
Once a cadet completed primary training at Tuskegee's Moton Field, he was sent to nearby Tuskegee Army Air Field for completion of flight training and for transition to combat type aircraft.
The first classes of Tuskegee airmen were trained to be fighter pilots for the famous 99th Fighter Squadron, slated for combat duty in North Africa.
Additional pilots were assigned to the 332d Fighter Group which flew combat along with the 99th Squadron from bases in Italy.
In Sep. 1943, a twin-engine training program was begun at Tuskegee to provide bomber pilots. However, World War II ended before these men were able to get into combat.
By the end of the war, 992 men had graduated from pilot training at Tuskegee, 450 of whom were sent overseas for combat assignment.
During the same period, approximately 150 lost their lives while in training or on combat flights.
Additional men were trained at Tuskegee for aircrew and ground crew duties--flight engineers, gunners, mechanics, armorers, etc. Others were sent to Texas and New Mexico for training as navigators and bombardiers.
Air Force Military Museum - Tuskegee Airmen
---
On November 6, 1998, President Clinton approved Public Law 105-355, which established the Tuskegee Airmen National Historic Site at Moton Field in Tuskegee, Alabama, to commemorate and interpret the heroic actions of the Tuskegee Airmen during World War II.
The new site will contain a museum and interpretive programs at the historic complex at Moton Field as well as a national center based on a public-private partnership.
American Visionaries - Tuskegee Airmen
---
Sources
American Battle Monuments Commission
American Visionaries - Tuskegee Airmen
Belleville Historical Society, Michael Perrone
Belleville Tuskegee Airman soars in history
CAF Red Tail Squadron
Forgotten Hero, February 28, 2018, By Karen Zautyk, The Observer
French historian accused of stealing American war heroes' dog tags to sell on eBay
Lt. Leonard R. Willette disappears over Germany
The Belleville Times, Jan. 18, 1945
The Divided Skies - by Jakeman
National Archives and Records Administration
National Park Service, Tuskegee Airmen National Historic Site, Alabama
The National Home of Tuskegee Airmen, Inc.
Newark Evening News
Star-Ledger, Morning
The Tuskegee Airmen of World War II
W.F. Holton, Tuskegee Airmen Inc.
Links subject to change