Belleville Historical Society
Belleville, New Jersey 07109
Dutch Reformed Church Cemetery


HONORING

REVOLUTIONARY SOLDIERS BURIED HERE
The men named on the plaque risked everything to provide freedom for those of us who stand here today. When the men of Belleville rose up against England, it was no sure thing that the colonies would prevail but that the revolutionaries and their leaders might hang.
The Dutch Reformed Church, in what was known as Second River, now Belleville, New Jersey, was established in 1697. The private cemetery on the west side of the building has in it buried at least 66 American Revolution War veterans.
The Belleville Historical Society honors these brave men each year on Independence Day.
---
Dutch Reformed Church Cemetery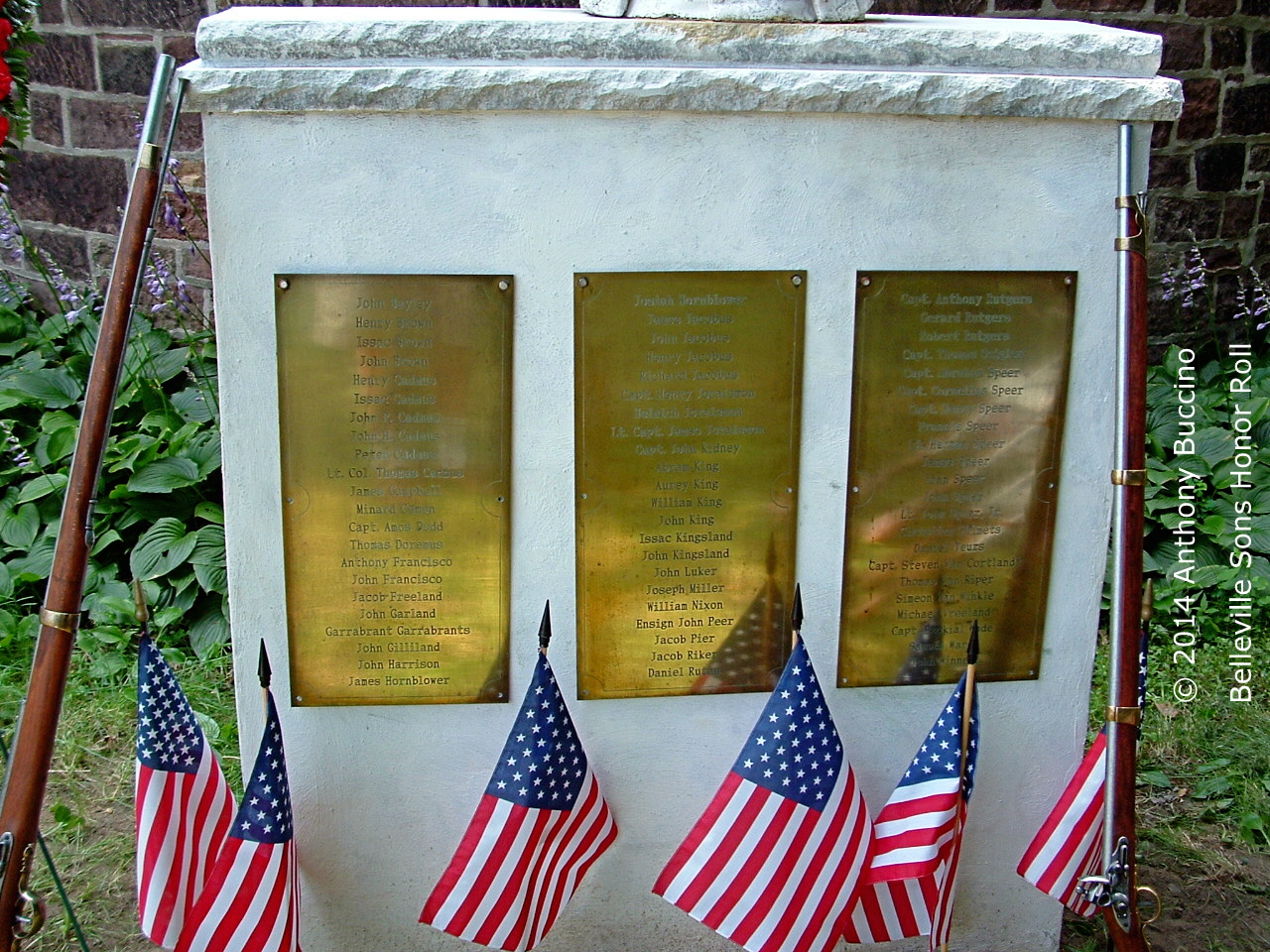 John Bayley
Henry Brown
Isaac Brown
John Brown
Henry Cadmus
Isaac Cadmus
John P. Cadmus
John H. Cadmus
Peter Cadmus
Lt. Col. Thomas Cadmus
James Campbell
Minard Curen
Capt. Amos Dodd
Thomas Doremus
Anthony Francisco
John Francisco
Jacob Freeland
John Garland
Garrabrant Garrabrants
John Gilliland
John Harrison
James Hornblower
Josiah Hornblower
James Jacobus
John Jacobus
Henry Jacobus
Richard Jacobus
Capt. Henry Joralemon
Helmich Joralemon
Lt. Capt. James Joralemon
Capt. John Kidney
Abram King
Aurey King
William King
John King
Isaac Kingsland
John Kingsland
John Luker
Joseph Miller
William Nixon
Ensign John Peer
Jacob Pier
Jacob Riker
Daniel Rutan
Capt. Anthony Rutgers
Gerard Rutgers
Robert Rutgers
Capt. Thomas Seigler
Capt. Abraham Speer
Capt. Cornelius Speer
Capt. Henry Speer
Francis Speer
Lt. Herman Speer
James Speer
John Speer
John Spier
Lt. John Spier Jr.
Christian Stimets
Capt. Steven Van Courtlandt
Daniel Teurs
Thomas Van Riper
Simeon Van Winkle
Michael Vreeland
Capt. Ezekial Wade
Samuel Ward
John Winne
---
In addition to the scores of officers and enlisted men, the cemetery is also the final resting place of Capt. Josiah Hornblower, patriot leader who also served in the Continental Congress.
Joseph Hornblower, the first son of Josiah Hornblower, was killed in battle in Union County also in 1777. The exact date and location are being researched. He is believed to be buried near the battlefield where he fell. Perrone note that after Joseph's death and the birth of another son, Hornblower named his newest son Joseph in memory of his deceased brother. This Joseph Courtney Hornblower went on to become the Chief Justice of the New Jersey Supreme Court.
Read more: Col. Philip Van Cortlandt added to roster of veterans buried in church cemetery
---
Second River - Dutch Reformed Church Cemetery July 4
A Place of Honor and Remembrance In the Home of the Brave
Belleville, New Jersey
---
Belleville and Nutley were the village of Second River, that is, the village included all the land between the Second and Third rivers, or roughly from present day Mill Street in Belleville to Kingsland Road at the Nutley-Clifton border.
---
Web site sponsored by
BELLEVILLE SONS HONOR ROLL - Remembering the men who paid for our freedom