Tail Gunner Sgt. Metzler KIA on Bombing Mission
(Oct. 4, 1945) -- Sgt. Frank H. Metzler, 21, was presumed dead on Sept. 10, the War Dept. notified his parents, Mr. and Mrs. John and Millie Metzler of 10 Reservoir Place, Belleville, N.J.
Sgt. Metzler, a tail gunner on a Flying Fortress, had been overseas five weeks before being reported missing in Germany since March 8, 1944.
He is survived by his brother Pfc. Charles Metzler of the 1st Army who returned after 13 months in the infantry in Europe.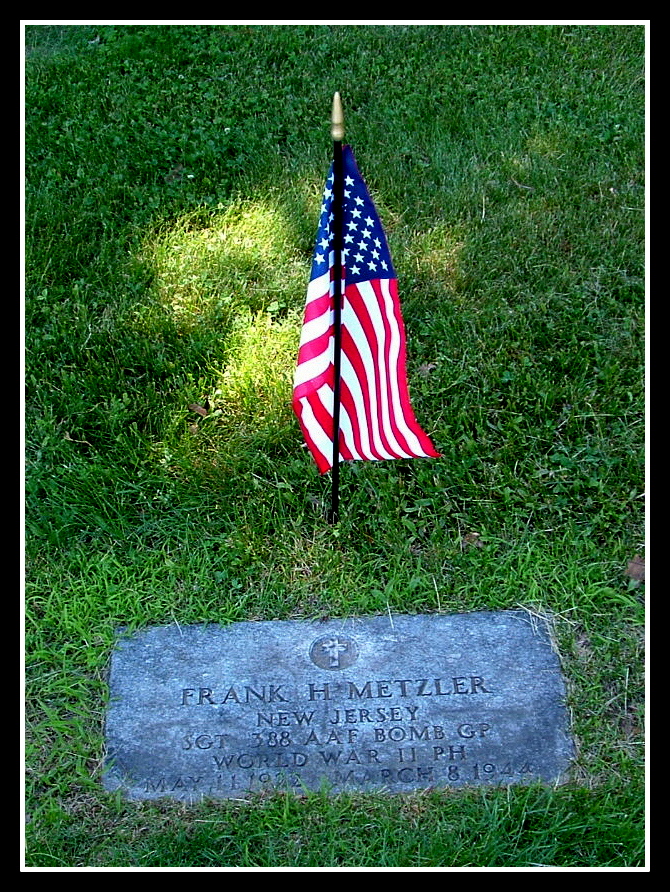 Glendale Cemetery, Laurel section: Sgt. Frank H. Metzler,
388 AAF, May 11, 1922 - March 8, 1944
---
Frank Metzler
MILITARY | SERGEANT | TAIL GUNNER | 388TH BOMB GROUP
Shot down by 20mm shells from ME109s on a mission to Erkner, Berlin, on 8 Mar 1944, B-17F #42-30340 'Screamin' Red Ass' crashed W of Magdeburg, GR. Killed in Action (KIA).
-- American Air Museum in Britain
---
SGT Frank H. Metzler
ID: 32762016
Branch of Service: U.S. Army
Hometown: Essex County, NJ
Status: FOD (Finding of Death)
-- National WWII Memorial
---
Sources
1940 United States Federal Census
The Belleville Times, April 27, 1944; Oct. 4, 1945
Belleville Street Naming In Honor of Soldiers Killed In Action
JULY 15, 2017
Giavanni Bocchino
10 a.m. Lake St.
KIA WWII,
Nicholas Del Grosso
10:30 a.m. Mt. Prospect Ave. at Belleville Ave.
KIA WWII
Frank H. Metzler
11 a.m. Joralemon St. at Reservoir Place
KIA WWII
Please join us
*****
A Place of Honor and Remembrance In the Home of the Brave
Belleville, New Jersey