Tail Gunner Sgt. Metzler KIA on Bombing Mission
(Oct. 4, 1945) -- Sgt. Frank H. Metzler, 21, was presumed dead on Sept. 10, the War Dept. notified his parents, Mr. and Mrs. John and Millie Metzler of 10 Reservoir Place, Belleville, N.J.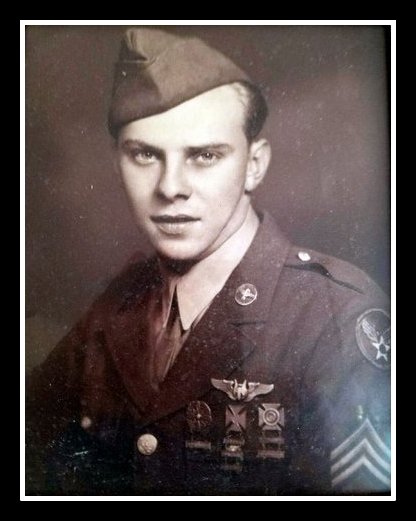 Sgt. Metzler, a tail gunner on a Flying Fortress, had been overseas five weeks before being reported missing in Germany since March 8, 1944.
Metzler's plane, the "Screaming Red Ass" was on the crew's third mission together under pilot 2nd Lt. Allan O. Amann. The crew had flown missions on March 3 and March 6.
In the pre D-Day invasion bombing of France, Germany and other targets, the English RAF preferred to bomb at night, sacrificing target accuracy for bomber safety. The U.S. forces continued daylight bombing run suffering higher losses for more accurate bombing.
The deeper our squadrons penetrated into enemy territory, the less they could be covered by our own fighter escorts, leaving them susceptible to attacks by the Luftwaffe's fighter force, mostly Messerschmitt Bf 109, called ME109 fighters, and Focke-Wulf Fw 190 fighters.
That day in March, three Air Divisions were assigned to target the Erkner Ball Bearing Works in Berlin. According to the 388th Bomb Group report of Mission 77, it furnished one group of two dozen aircraft to the mission. The bombers were airborne by 9:06 a.m., and the Wing proceeded to the target. A dozen aircraft aborted before reaching the target, 11 for mechanical reasons and one when an engine was shot out by a fighter attack.
Very determined enemy fighter opposition, lasting from 1 p.m. to 1:45 p.m. was met en route to the target. As was the case in the previous mission, all enemy attacks were during a lapse of Allied escort fighters.
Thirty to 50 enemy aircraft, mostly Focke-Wulf Fw 190 fighters, attacked mainly from the nose high in a trail of 10 to 12 aircraft. These saturation tactics confused our gunners, as they knew not which aircraft to fire at. Since it was impossible to fire at all attacking enemy aircraft, some would get through. All of our missing aircraft were shot down on this series of attacks.
2nd Lt. Michael Moran in aircraft "Princess Pat" was hit by fighters near Celle. The FW 190 caused the left wing to come off and the plane flipped on its back and no chutes were seen at this time. Eight men got out and were taken prisoners.
Lt. William Lentz's aircraft was hit by fighters just inside the Dutch Coast.
Lt. Amann in aircraft "Screaming Red Ass" was hit by Me 109 fighters. When last seen, the Number three engine was feathered and both wings were badly shot-up. The plane crashed west of Magdeburg. Nine of the ten crew members were killed, including tail gunner Sgt. Metzler. Waist gunner H. Quick survived and was taken prisoner of war.
Sgt. Metzler is interred at Glendale Cemetery. He is survived by his brother Pfc. Charles Metzler of the 1st Army who returned after 13 months in the infantry in Europe.
---
Aircraft Crew 42-30340
Pilot - 2nd Lt. Allan O. Amann, KIA
Copilot - 2nd Lt. Don Eldred Wollard, KIA
Navigator - 2nd Lt. William Leroy Pierson, KIA
Bombardier - S/Sgt Raymond J. Diederich, KIA
Radio Operator - S/Sgt. Joseph Edward McGonagle, KIA
Engineer - S/Sgt. Robert Taylor Carter, KIA
Ball Turret - S/Sgt. Boyd Dallas Iverson, KIA
Waist Gunner - T/Sgt. Harold Quick, POW
Waist Gunner - Sgt. Harlie Wilton Sands, KIA
Tail Gunner - Sgt. Frank H. Metzler, KIA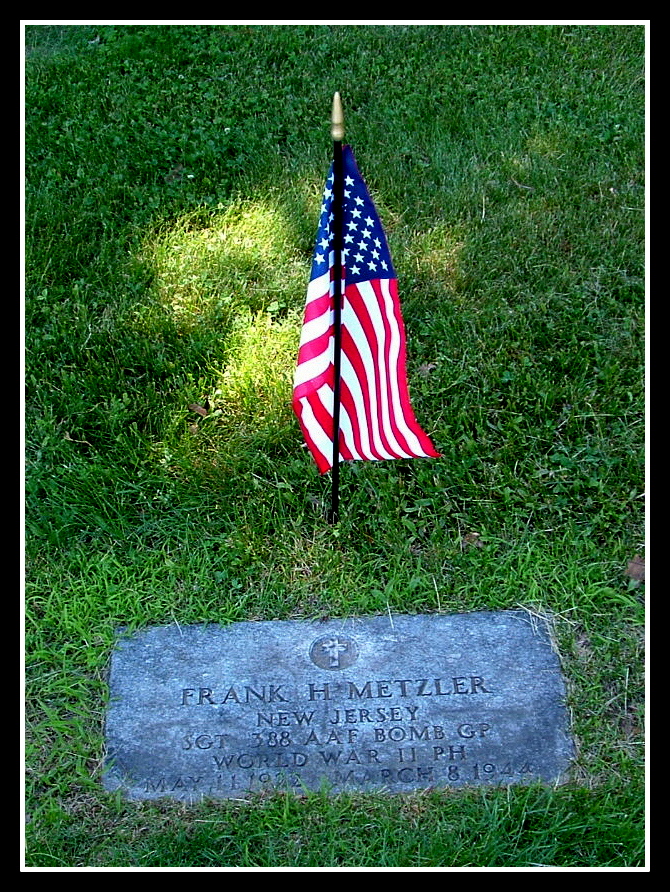 Glendale Cemetery, Laurel section: Sgt. Frank H. Metzler,
388 AAF, May 11, 1922 - March 8, 1944
---
Frank Metzler
MILITARY | SERGEANT | TAIL GUNNER | 388TH BOMB GROUP
Shot down by 20mm shells from ME109s on a mission to Erkner, Berlin, on 8 Mar 1944, B-17F #42-30340 'Screamin' Red Ass' crashed W of Magdeburg, GR. Killed in Action (KIA).
-- American Air Museum in Britain
---
SGT Frank H. Metzler
ID: 32762016
Branch of Service: U.S. Army
Hometown: Essex County, NJ
Status: FOD (Finding of Death)
-- National WWII Memorial
---
Sources
1940 United States Federal Census
The 388th At War by Ed Huntzinger
The Belleville Times, April 27, 1944; Oct. 4, 1945
U.S. Rosters of World War II Dead, 1939-1945
U.S., WWII Jewish Servicemen Cards, 1942-1947
U.S. City Directories, 1822-1995