(November 30, 1944) -- Marine Sgt. William J. Mears, of Jefferson Street, was killed in action in Peleliu on Palau Islands in the South Pacific on Sept. 15.
Mears enlisted in the Marines the day after Pearl Harbor was attacked.
During his tour he was cited as a demolitions expert. He was a veteran of Guadalcanal, Cape Gloucester, New Britain and Bougainville during his 28 months overseas.
He was scheduled to return to the States to begin study at officer candidate school.
The Palue Islands in what is now the Republic of Palau, are in the westernmost cluster of the Caroline Islands, north of Australia and west of Micronesia.
Sergeant William Joseph Mears, U.S. Marine Corps
00344331
Entered the Service from: Alabama
Died: September 15, 1944
Missing in Action or Buried at Sea
Tablets of the Missing at Manila American Cemetery
Manila, Philippines
Awards: Purple Heart
Sources:
American Battle Monuments Commission
The Belleville Times, Nov. 30, 1944
Belleville Sons Honor Roll - Remembering the Men Who Paid for Our Freedom Second Edition
Available in paperback or as a download.
The second edition updates the 106-page original printing, including more information on Belleville actions in the American Revolution, War of 1812, Civil War, World War I, World War II, Korean War, Vietnam War and Cold War casualties.
Latest edition includes some photographs.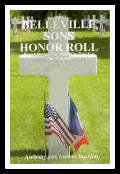 Snail Mail: PO Box 110252, Nutley NJ 07110
Entire contents BellevilleSons.com
Copyright © 2003 - 2007 by Anthony Buccino
All Rights Reserved
Web site sponsored by