Former Belleville Resident
Nutley Sailor Lost Life As his D-Day Ship Sunk
Seaman 2-c Ronald McCormack Victim of Nazi Torpedo, Parents Told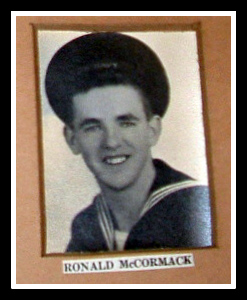 (July 20, 1945) -- Official word of the death of Seaman Second Class Ronald F. McCormack has been received by his parents, Mr. and Mrs. R. F. McCormack of Church Street, Nutley, it was revealed this week.
The McCormicks are former residents of Belleville.
Seaman McCormack was reported missing on June 9, 1944, after he participated in the D-Day invasion of Normandy. He was aboard LST 314.
According to the report made by the Secretary of the Navy, ''there were 5 LST ships in the group. They had made one successful trip across, but on the second, they were hit by a torpedo from a German "E" boat, causing great fires and explosions. Three of the five ships were sunk.
The attack occurred at night and according to some of the survivors, McCormack was believed to have been asleep at the time of the attack and went down with the ship.
McCormack was a graduate of Belleville High School.
Besides his parents, he is survived by a sister, Muriel.
---
Sources
The Nutley Sun, July 20, 1945:
Nutley Sailor Lost Life As his D-Day Ship Sunk
Belleville Times, July 19, 1945:
Former Belleville Youth Killed In Navy Action Seaman 2-C Ronald McCormack
Went Down With Ship In Normandy Invasion
National World War II Memorial
World War II Honor List of Dead and Missing,
State of New Jersey, War Dept. June 1946