Hoey Honored For Bravery
Silver Star, Bronze Star Presented Posthumously to Local Infantryman
(August 2, 1945) -- Technical Sgt. Patrick J. Hoey, 25, was killed in action on Dec. 14, while serving with the First Army in Germany.
Born in Long Island, Hoey lived with his aunt and uncle for 10 years on 18 Prospect Street in Belleville.
Hoey was wounded in Tunisia in 1943, and awarded the Legion of Merit.
Hoey was also wounded during the Normandy campaign.
Acting Adjutant General Maj. Gen. Edward F. Witsell presented the Silver Star and Bronze Star to the young soldier's aunt, Mrs. Daniel Hoey of Prospect Street.
The Silver Star was presented ''for distinguishing himself and disregard for personal safety on Dec. 12, 1944, during the campaign ... which reflects highest credit upon himself and the Armed Forces of the United States.''
The Bronze Star: ''...during the period July 5 1944, to Sept. 30, 1944, in the European Theatre of operations ... took over as platoon sergeant when his platoon sergeant had a casualty.''
Hoey was inducted into the service January 1941.
---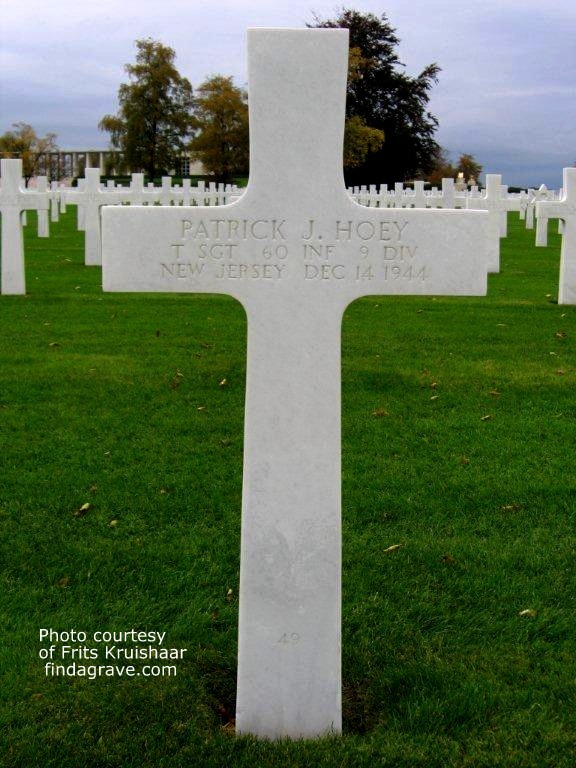 Technical Sergeant Patrick J. Hoey, U.S. Army

32056071

60th Infantry Regiment, 9th Infantry Division

Entered the Service from: New Jersey
Died: December 14, 1944
Buried at: Plot G Row 12 Grave 49
Henri-Chapelle American Cemetery
Henri-Chapelle, Belgium
Awards: Silver Star, Bronze Star, Purple Heart
---
Source
American Battle Monuments Commission
The Belleville Times, Aug. 2, 1945