Bruegman, Listed Missing, Was Killed Over Hungary
Bombardier Son Of Malone Avenue Family
Was Lost In July Last Year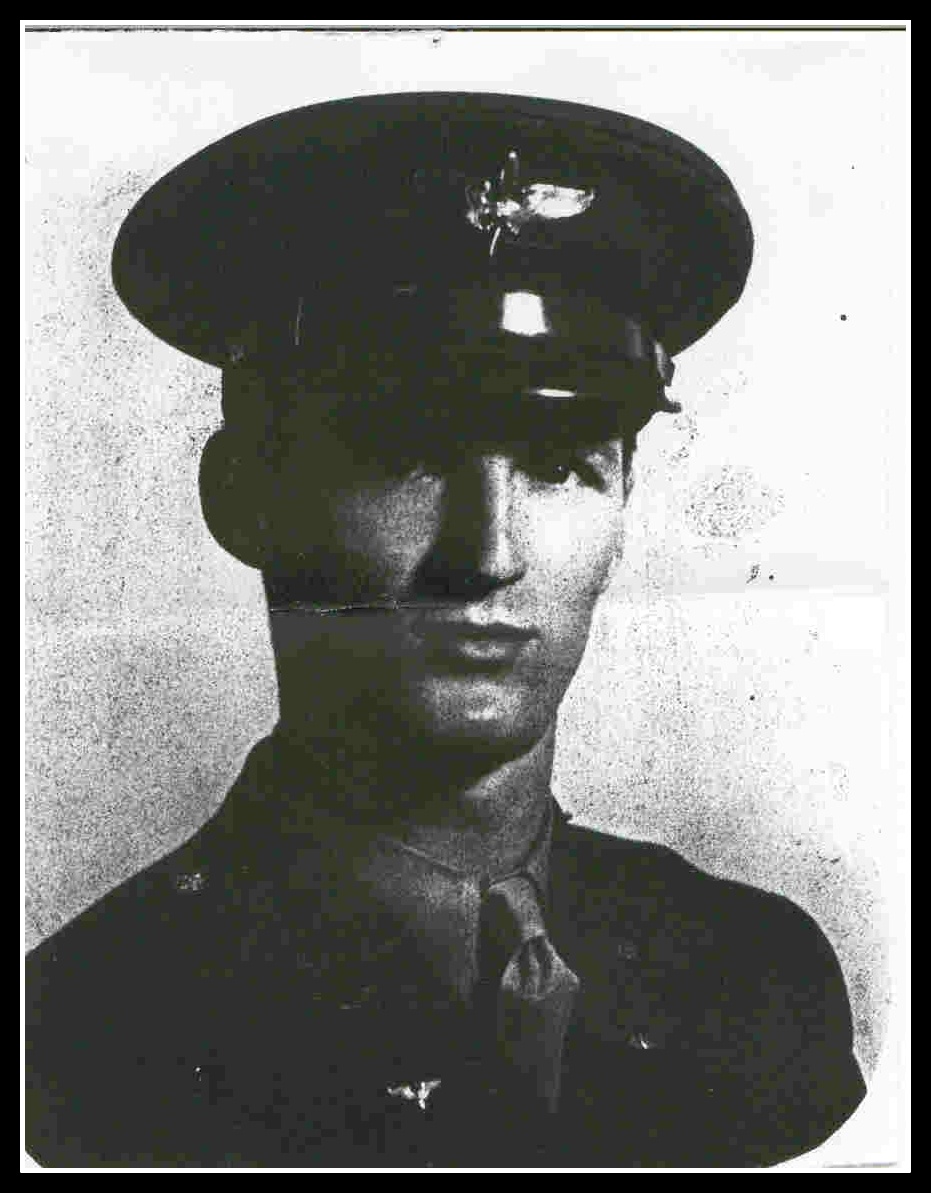 (Aug. 9, 1945) -- 2nd Lt. Victor Bruegman, 26, was killed over Hungary on July 2, 1944.
Bruegman served in the 744th Bomber Squadron, 456th Bomber Group, Heavy which operated out of the Stornara Airfield located near Cerignola, Italy.
The target that day was the Shell Oil refinery at Budapest. Thirty planes from the 456th Bomber Group left for the mission, and eight did not return.
According to B-24 pilot Robert C. Alexander, his aircraft, #42-78072, was shot down over Budapest. Five of the men on board were killed, the rest - co-pilot, radio operator, navigator, nose gunner and engineer were - taken prisoner.
Alexander was the only member of the crew uninjured.
In a letter written to his dad on Oct. 9, 1944, Alexander "writing from Stalag Luft III ... I don't know if you knew but both "P.C." (Page Hendrickson, pilot) and "Brugie", (Victor Bruegman, bombardier) were killed. From all the information I have I seem to be the only one on my crew that got out with no injuries."
The crew comprised:

Pilot: Page C. Hendrickson - Wheeling, W. Va.
Co Pilot: Robert C. Alexander - Warrendale, Pa.
Navigator: Edward B. Wagner - Portland Ore., or Woodland, Calif.
Bombardier: Victor Bruegman - Belleville, N.J.
Top Gunner: Glenn W. Constable - Johnstown, Pa.
Engineer: Arthur A. Pope - Lombard Ill. (Pope did not fly that day. His replacement was a man named Plath)
Ball Gunner: John L. Weidrich - Buffalo, N.Y.
Nose Gunner: J. T. Phillips - Belmont, N.C.
Tail Gunner: Robert P. Mack - Milwaukee, Wis.
Radio Operator: Earl E. Richardson - Christiansburg, Va.
From a letter dated Nov 8, 1944, Alexander wrote from the POW camp:
Dear Dad and Louise,
Just lately I've been getting my mail. On the 31st I received 8. (4 from you and one each from Rose Marie, Eula & Cliff, Frank Beveridge, and Mrs. Betty Bruegman.) Betty had a baby (a boy) on Sept. 22. Did she get my address from you. I don't think she knows yet that "Vic" is dead...."
Bruegman enlisted in the Army on April 2, 1941. He served 1-1/2 years in the infantry before transferring to the Air Corps in 1943. He received his wings at Big Spring Bombardier School in Texas on Dec. 25, 1943.
He went overseas in May and landed in Italy on June 6, 1944.
Second Lt. Victor R. Bruegman, U.S. Army Air Forces, serial number O-703441, of the 744th Bomber Squadron, 456th Bomber Group, Heavy, entered the service from New Jersey.
Bruegman, a 1937 graduate of Belleville High School is the son of Mr. and Mrs. Alvin Bruegman of Malone Avenue. His brother Richard is serving in the South Pacific.
His family was notified that he was missing in action on July 27, 1944.
He is survived by his wife Betty, and has a son, Victor Jr. whom he never saw.
Victor's brother married Helen Papartis whose sister Alice wed Clatie Cunningham.
2nd Lt. Victor Bruegman, who received the Air Medal and the Purple Heart, is buried at Plot K, Row 9,Grave 14, in the Lorraine American Cemetery, St. Avold, Moselle, France.
---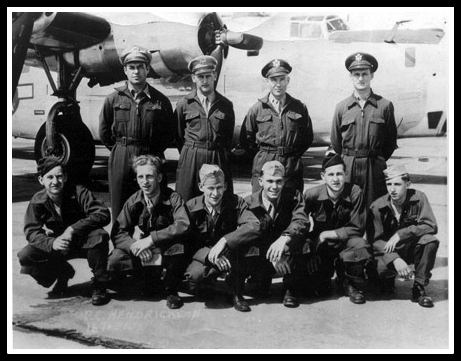 Top row, from left: Page C. Hendrickson, Pilot; Robert C. Alexander, Co-Pilot; Edward B. Wagner, Navigator; Victor R. Bruegman, Bombardier.

Bottom row, from left: Glenn W. Constable, Top Gunner; Arthur A. Pope, Engineer; John L. Weidrich, Ball Gunner; J.T. Phillips, Nose Gunner; Robert P. Mack, Tail Gunner; Earl E. Richardson, Radio Operator.
---
Headquarters, Army Air Forces
Washington


Attention: AFPPA-8
AAF 201 - (6445) Alexander, Robert C.
0820691
5 February 1945

Mr. Carl H. Alexander
Box 31
Warrendale, Pennsylvania
Dear Mr. Alexander:

Reference is made to your kind letter of January 24th relating to your son, Lieutenant Robert Alexander and the crew members who served with him on his last mission.

Your letter is being referred to the Adjutant General, Casualty Branch, who would be concerned with such information regarding missing personnel as Lieutenant Alexander gave in writing you.

The discretion you show in refraining from writing the families of Lieutenants Bruegman and Hendrickson is to be commended. Much unhappiness may result from a confusion of reports, and it is best to give the War Department an opportunity to establish facts and notify the emergency addresses wherever a change of status occurs.

Sincerely Yours,
E.A.BRADUNAS
Major, Air Corps,
Chief, Notification Branch
Personal Affairs Division
Assistant Chief of Air Staff, Personnel
---
Victor R. Bruegman
ID: O-703441
Entered the Service From: New Jersey
Rank: Second Lieutenant

Service: U.S. Army Air Forces, 744th Bomber Squadron, 456th Bomber Group, Heavy

Died: Sunday, July 02, 1944
Buried at: Lorraine American Cemetery
Location: St. Avold (Moselle), France
Plot: K Row: 9 Grave: 14

Awards: Air Medal, Purple Heart
---
UPDATE: Vic Bruegman Jr. was working on his Master's at Louisiana State University when while horse-back riding he was thrown and died on Nov. 27, 1971.
---
Sources
American Battle Monuments Commission
Behind the Wire, Stalag Luft 3, South Compound by Ewell McCright
One Soldier's Story - A Collection of War Stories by Robert W. Reichard
The Belleville Times: July 27, 1944, Aug. 9, 1945
Richard Bruegman, brother, Oct. 23, 2003
Robert C. Alexander - Catherine Alexander
National World War II Memorial
Fred Riley
Dwayne Russell