Captain William Anderson Branch, 28, was killed in action on June 6, 1970, when the helicopter in which he was a passenger crashed on landing due to hostile enemy action in Binh Duong, South Vietnam.
Capt. Branch served with the 25th Infantry Division. His tour of duty began July 24, 1969.
Born on Friday, July 11, 1941, Capt. Branch was married.
---
Two men from Headquarters Company, 2/14 Infantry, were killed when OH-6A tail number 68-17366 was shot down 10 kilometers southeast of the Dau Tieng base camp - Captain William A. Branch and Captain William L. Byrd of Rossville, Georgia.
Captain Branch was on his second tour of duty in Vietnam; his first was in 1966-67 when he served as a MACV Advisor with the 2nd Bn, 46th ARVN Infantry in Long An Province.
---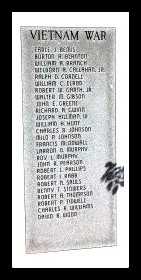 North Georgia College is "The Military College of Georgia," a Senior Military College.
Neither as large nor as well known as some of the Senior Military Colleges (The Citadel, VMI, Virginia Tech, Texas A&M, and Norwich) The Military College of Georgia has provided commissioned officers to the Armed Forces since the 1870s.
The 27 members of North Georgia's Corps of Cadets who died in Vietnam are remembered by a memorial stone on the campus. Captain Branch is the third name engraved on the memorial. Similar stones remember the men who died in the World Wars, Korea, and more recently in the Middle East.
- Courtesy Virtual Wall
---
BRANCH, WILLIAM ANDERSON
BELLEVILLE, NJ
Date of Birth: Friday, July 11, 1941
Sex: Male
Race: Caucasian
Marital Status: Married
Branch: Army
Rank: CPT
Serial Number: 142344893
Component: Regular
Pay grade: O3
MOS (Military Occupational Specialty code): 59301
Major Organization: 25th Inf Div
Start of Tour: Thursday, July 24, 1969
Date of Casualty: Saturday, June 6, 1970
Age at time of loss: 28
Casualty type: (A1) Hostile, died
Reason: Air loss - Crashed on land (Helicopter, non-crew)
Country: South VietNam
Province: Binh Duong
The Wall: Panel 09W - Row 018
---

The Wall: Panel 09W - Row 018
The Vietnam War Memorial Wall
Washington, D.C.
---
Sources:
New Jersey Vietnam Veterans Memorial
Link to the Past: A Vietnam Story