Pvt. Michael J. Murray, 27, died of lobar pneumonia on Oct. 5, 1918.
Murray joined the Army at Ft. Slocum, N.Y., on May 25, 1917.
He served in the 57th infantry.
He is survived by his mother Mrs. Mary Murray of 52 Elliot St., Newark.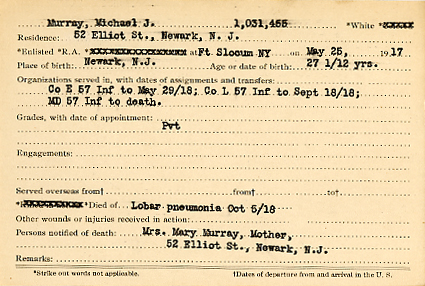 ---
Source
State of New Jersey Dept. of State Div. of Archives & Records Management: World War I Casualties: Descriptive Cards and Photographs.
A Place of Honor and Remembrance
In the Home of the Brave
Belleville, New Jersey
---
---