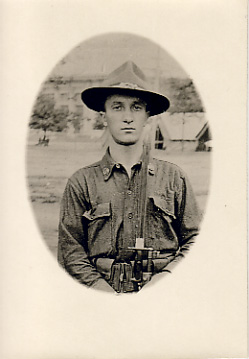 Private George Stuart Smith, 24, of 34 Isaac St., Belleville, was killed in action on Nov. 1, 1918.
He joined the Army from New Jersey and was inducted at Fort Slocum, N.Y.
Pvt. Smith served with the Ninth Infantry Regiment, 2nd Infantry Division.
He served in engagements at Verdun; Marne; Soissons; St. Mihiel; Mont Blanc Ridge and the Argonne Forest.
He is survived by his mother Mrs. Marie Vreeland of the same address.
Pvt. Smith is buried at Plot E, Row 39, Grave 34, at Meuse-Argonne American Cemetery, Romagne, France.
---
Sources:
American Battle Monuments Commission
State of New Jersey Dept. of State Div. of Archives & Records Management: World War I Casualties: Descriptive Cards and Photographs.