Belleville Pays Tribute To War Heroes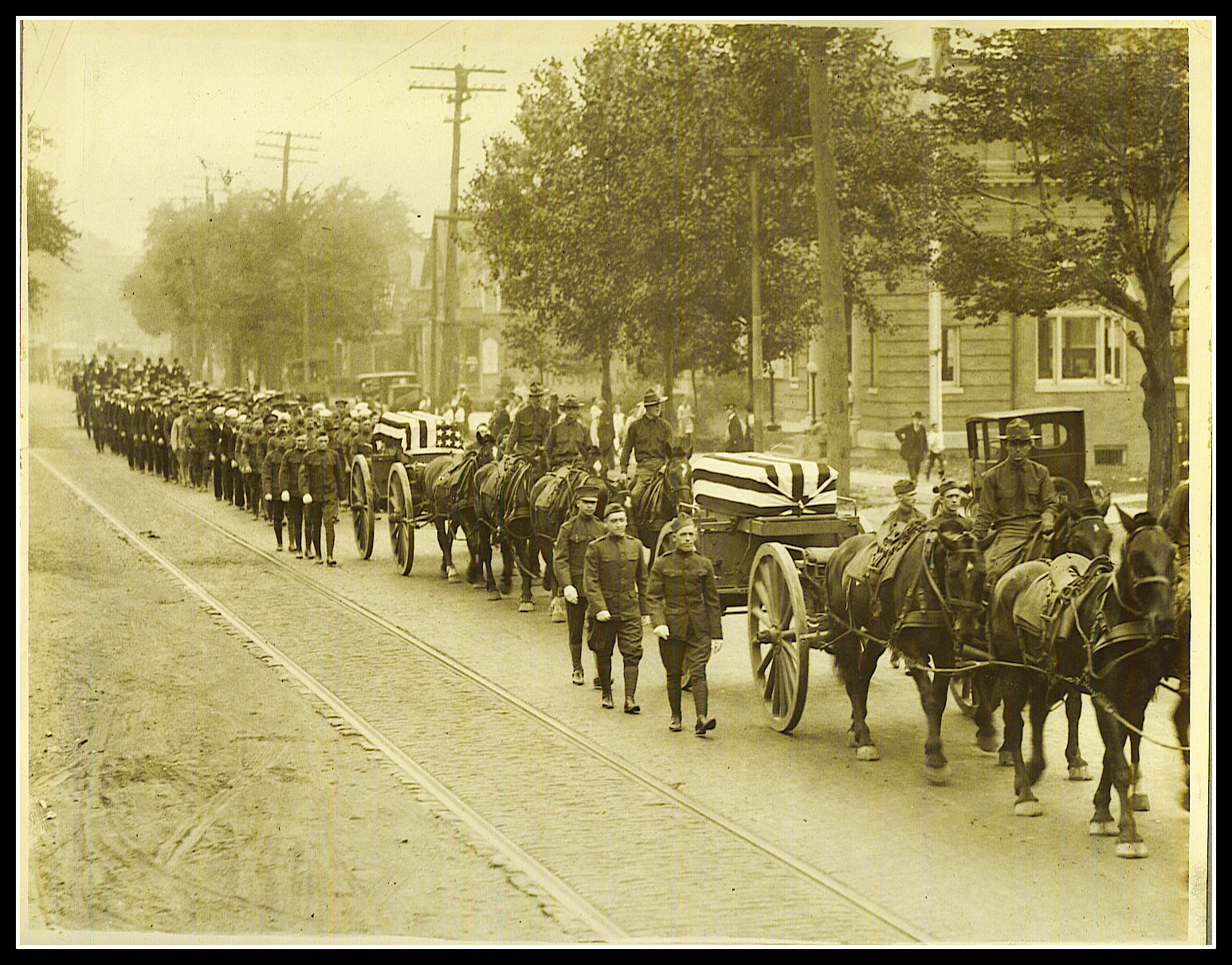 Edward Crowell Jr. and Michael Flynn Jr. return to Belleville
Belleville paid final tribute to two of its war heroes yesterday at the joint military funerals of Private Edward Joseph Crowell, Jr. son of Mr. and Mrs. Edward J. Crowell, 19 Factory Street, and Private Michael A. Flynn, Jr., son of Police Chief Flynn.
Throngs lined Washington Avenue as the cortege proceeded from St. Peter's Catholic Church to St. Peter's Cemetery. The bodies were borne on gun caissons. The photo shows the body of Private Flynn in the foreground, as the procession was passing the Town Hall.
Chums in boyhood, comrades in enlisting in the army, these two youths who made the supreme sacrifice in accidents far from the battle fronts after participating in some of the fiercest engagements of the war, went together to their graves, which lie side by side.
To honor these heroes, both of whom had been decorated for valorous conduct in fighting, the American Legion Post and the George Younginger and Abraham Lincoln Posts, Veterans of Foreign Wars, united yesterday to form the escort for the procession.
- Newark Star-Eagle
---
Edward Joseph Crowell, Jr. was born on March 9, 1894, in Belleville, N.J. He was baptized on March 25, 1894 in St. Peter's Church in Belleville.
As a boy growing up, Edward had a friend, Michael Flynn, Jr., and as best friends go, these two boys were inseparable.
Then in 1916, every parent's nightmare was realized in the wake of World War I. Yet to young men like Edward and Michael, it was a time of honor and duty.
Edward enlisted in the Army on June 17, 1917 and was sent to Fort Slocum, N.Y. Eddie wanted his childhood friend to enlist with him, but Mikey was rejected because of his teeth. Flynn saved his money to have his teeth fixed and later reapplied and was accepted into the Army.
Later Edward was assigned to a training camp at Syracuse, N.Y. From here he was sent overseas.
While in Europe, the two friends were reunited and had a picture taken together with a John Grant of Boston who was Flynn's bunk mate. Pvt. Edward J. Crowell was a member of the 59th Infantry.
Crowell's grandnephew, Ed Morrows recalls his grandmother and Edward's sister, Catherine Machette, saying that her brother had the nickname of "Whitey". When I asked why was this his nickname, she said that the war had turned his hair white.
According to accounts, both tragically died after the war was over but before returning home. Eddie was in a bar the night before he was to sail home to America.
Another soldier was drunk and said some nasty remarks about Eddie's mother. A fight ensued and Eddie was stabbed in the temple. He died the next day, on August 4, 1919, as the ship he was to be on sailed from the harbor.
Michael Flynn was said to have been riding on a train in a boxcar with other soldiers. They were horsing around when Michael fell off and under the train and was killed instantly.
Throughout their lives they were inseparable and now both were honored in a joint funeral in Belleville. They were buried side by side in St. Peter's Cemetery.
Private Crowell died of wounds in Brest, France, on August 4, 1919. Private Flynn died in France on Dec. 7, 1918.
-- Written by Ed Morrows, Used with permission.