These Belleville Sons are known to have died in the Civil War
Captain Henry Benson
John J. Rodgers
Thomas Stevens
From Belleville, two soldiers died in the Seven Daysí Battle (Peninsula Campaign) as Thomas Stevens (Stephens) was killed June 27, 1862, and Captain Henry Benson died of his wounds on August 11, 1862.
John Rogers (Rodgers) was killed in action on April 8, 1865, at Fort Davis while defending Washington, D.C., shortly before the war ended.
---

The intersection of Main and Rutgers streets was dedicated in Honor of Captain Henry Benson who died of his wounds on the battlefield in the Civil War. The same day, the intersection of and Florence Avenue and Franklin Street was dedicated in honor of Frank A. Cancelliere who was KIA in Vietnam on Saturday, September 10, 2016. After the street ceremonies, family and friends gathered at Belleville Nutley DAV Chapter 22, 612 Mill Street, Belleville, N.J.
---
General Llewellyn Frost Haskell
Belleville born soldier rose to top Union Army ranks, led Colored Infantry, present at Lee surrender at Appomattox
---
Commodore William D. Whiting
Civil War naval commander is buried in Christ Church Cemetery, Belleville, N.J.
---
Veterans
The full number of men from Belleville and Nutley (still a part of Belleville), N.J., who served during the war is difficult to determine. Many local men joined the service in New York and other locations as they saw the New Jersey militia as too slow in activating its troops.
Daniel Henry Rucker
Major General, US Army
(Arlington National Cemetery)
Born on April 28, 1812 at Belleville, New Jersey.
Stephen V.C. Van Renssalaer
Civil War Union Army Officer. Commissioned Captain and commander of Company A, 13th New Jersey Volunteer Infantry on August 22, 1861, and fought with his unit at the Battles of Antietam, Fredericksburg, Chancellorsvile and Gettysburg. Death: May. 20, 1885. Buried: Christ Church Cemetery
William E. Blewett
Company F, Second Regiment, William E. Blewett 1st Lt. June 4, '62 June 4, '62 3 Yrs 2d Lt. June 12, '61; 1st Lt. vice Vreeland promoted; resigned Sept. 9, '62. Source: Civil War database, N.J. Civil War Record: Page 126, NEW JERSEY VOLUNTEERS. Company E, Second Regiment.
---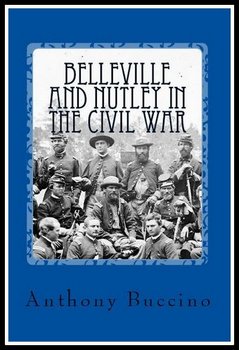 Belleville and Nutley in the Civil War
a Brief History
by Anthony Buccino
A compilation of information documenting the participation of the New Jersey towns of Belleville and Nutley in the American Civil War. Publication includes information on six local soldiers killed in action in the War Between the states, The Diary of James C. Taylor of Belleville, plus information on the battle campaigns in which they gave up their lives. Also lists information on participation in various New Jersey and other state militias by local men.
Covers and content vary.
In Print
---
Sources
Belleville Historical Society, Edward O'Neil
The Belleville Times, Nov. 11, 1996, Richard Dickon, Editor
Civil War Diary of James C. Taylor of Belleville, Company F, 39th Regiment, New Jersey Volunteers, in the War to Save the Union of the United States of America, 1925.
Diane Price, Belleville Public Library
Glen Pierce
Norman Price
Michael Perrone
Find a grave
NJ State Library